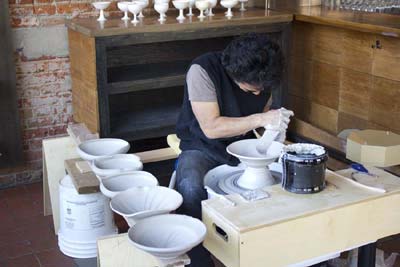 Philosophy Behind Kazu Oba's Ceramic Art
Unlike any other cuisines, one of the unique aspects of Japanese cuisine is to artfully harmonize the food, sake and ceramics on which they are served, to enhance each other and highlight the best in each creation. A nuance in the fine art of Japanese cuisine is to choose the ceramics that visually complement the food and in turn, enhances the flavor of the food. This is also true with sake. In order to fully appreciate fine Japanese sake, one must choose the sake cups worthy of fine sake. Oba's approach to his ceramic art is soley based on this philosophy.
Due to popular demand, the dates for the Den Ceramics Show featuring Kazu Oba in our (former) Ototo space have been extended to include each Friday and Saturday until Christmas. Don't miss the opportunity to meet the artist, watch his pot throwing demonstration, and learn about the relationship of his ceramics to food.
Andra Zeppelin of Eater Denver observes, "A native of the island of Kyushu, Kazu Oba has exhibited his work throughout the world from the United States to Sweden, Denmark, Germany, Italy and Australia. Oba has trained formally in Japan between 2003 and 2004 with famed master potter Taqkashi Nakasato, a thirteenth generation Japanese potter whose work is part of the permanent display at Denver Art Museum."
Dates: December 14 & 15 and December 21 & 22
Hours: 10 am - 10 pm
Location: 1501 South Pearl St., Denver, CO 80210
Images of his art work - photos courtesy of Isabelle Mollien, Rodo Kageyama and Kazu Oba.